We also offer Betacam to DVD transfers in Essex from our shop based in Rayleigh high street, Essex. However with our postal service, we can actually cover the whole of mainland UK. Click below to find out more about our postal service.
Our high quality Betacam transfers are completed within 3 days, with your DVD printed with your film title. If you bring your Betamax in to the store, you will get a call when it is ready to collect. If you used our postal service, your DVD transfer and original tape will be sent back to you at the agreed address via signed for Courier.
Frequently Asked Questions: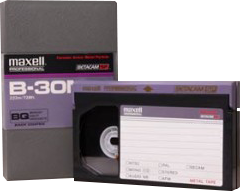 ---
Prices
Here is our price list for Betacam Transfers to DVD. The price depends on the amount of time on the Betamax cassette. For example, if there was 1hr 46mins it would come under the "Up to 2hrs" bracket, therefore cost £17.50. Additional copies of the DVD are available for just £9.99 each.
Time
Price per tape
Extra Copies
Up to 1 hr
£12.50
£9.99
Up to 2 hrs
£17.50
£9.99
Up to 3 hrs
£22.50
£9.99
Up to 4 hrs
£27.50
£9.99
5 hrs+
£29.50
£9.99
(All inclusive of VAT)